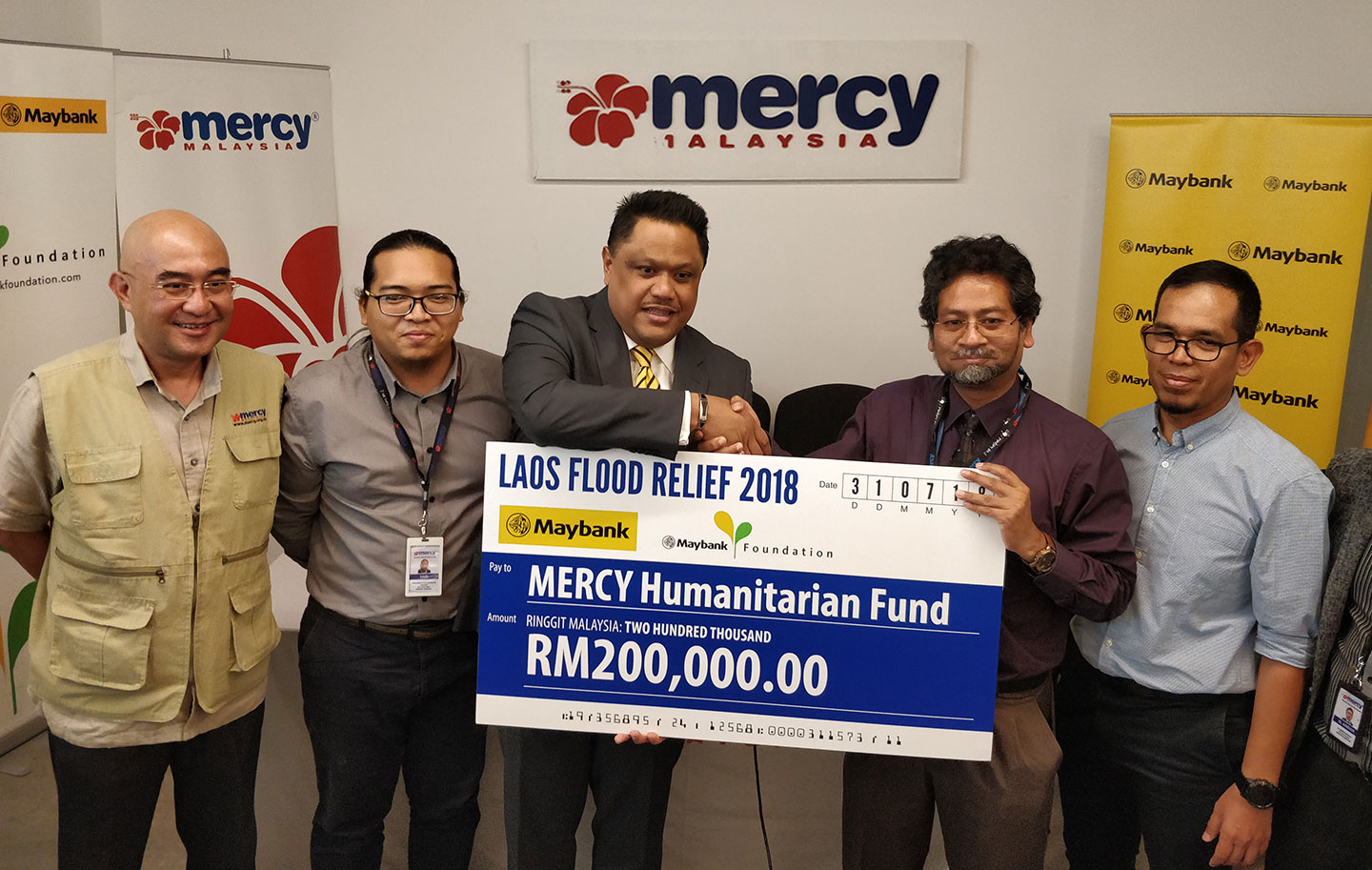 31 July 2018
Maybank Donates RM 200,000 to Laos Flood Relief
En. Shahril Azuar Jimin, CEO, Maybank Foundation handing a mock cheque to Dato Dr. Ahmad Faizal Perdaus, President, MERCY Malaysia
In the spirit of solidarity, Maybank Foundation, the corporate responsibility arm of Maybank, contributed RM200,000 emergency relief funding to its Disaster Relief partner, MERCY Malaysia. The funds will be used to provide relief aid such as medical supplies, safe drinking water and temporary shelter to the flood victims in Attapeu Province, Laos.
Due to the monsoon season and heavy rainfall brought by Tropical Storm Son Tinh, about 349 villages in 41 districts of 10 provinces were flooded since 18 July 2018. Collateral flash-flood in Attapeu Province was due to water discharge from Xepien-Xenamnoyu Dam, affecting downstream villages with more than 16,000 people.
On 27 July 2018, MERCY Malaysia had deployed a team of nine (9) personnel headed by our own Ahmad Faezal Mohamed, Head of CR and Maybank Foundation Secretariat who is also MERCY Malaysia's Assistant Honorary Secretary to assess the situation in the disaster area. Following the assessment, MERCY Malaysia deployed a team of medical personnel to provide medical assistance to the affected community and also distributed relief items such a hygiene kits, dignity kits, mosquito repellents and shelter kits.
"Our teams are currently on site, assisting with the relief efforts for our fellow Laotians. From our assessment of the disaster area, additional funds are required to rehabilitate and rebuild the homes of the communities that were displaced by the floods." - Ahmad Faezal Mohamed, Head, CR & Maybank Foundation Secretariat
Maybankers, we are appealing to your good heart to assist our fellow Laotians in the affected areas and rebuild their lives and homes. Let us lend a hand to the victims in their time of critical need.