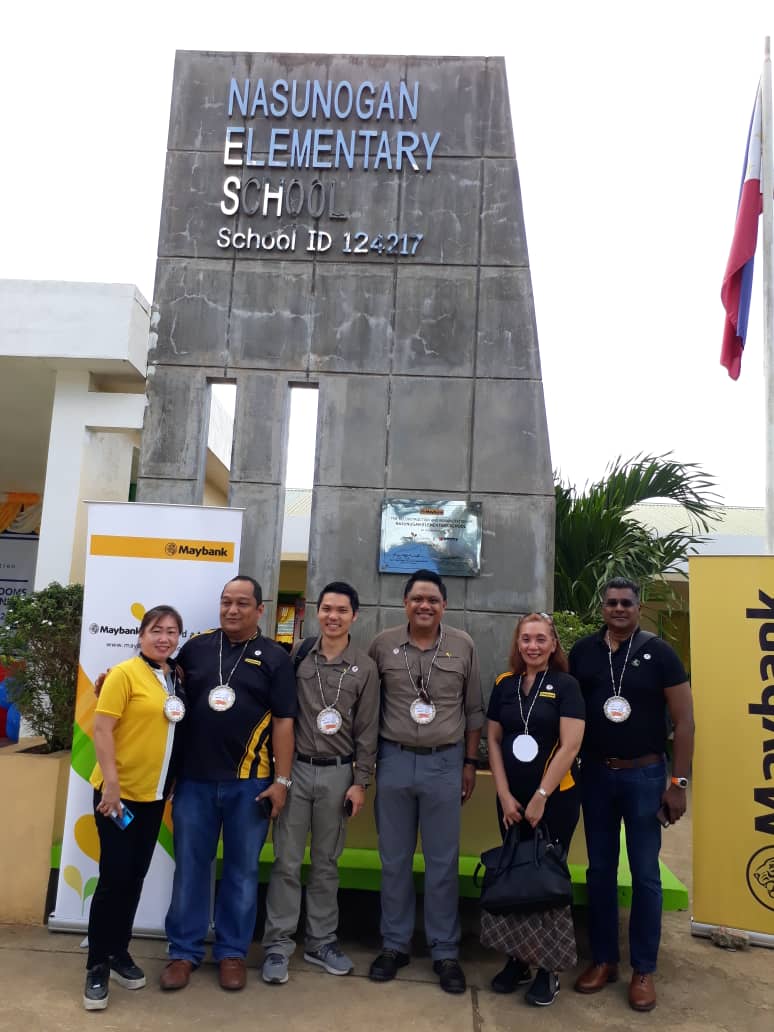 22 October 2019
Maybank Brings Hope and Empowerment with Classrooms Turnover at Barangay Nasunogan Elementary School
Maybank, together with its strategic disaster relief partner, MERCY Malaysia, had brought further relief assistance to the community through the successful rehabilitation of typhoon-damaged Nasunogan Elementary School in Ormoc City. With the recent turnover of two newly constructed additional classrooms in this public school of more than 400 enrolled students, Maybank continues to bring hope and help rebuild the devastated Eastern Visayas area severely damaged by supertyphoon Haiyan (Yolanda) six years ago.
Shahri Azuar Jimin, Maybank Foundation Chief Executive Officer, officiated the turnover of the classrooms at Nasunugan Elementary School last October 22, together with Department of Education Ormoc City Division's Atty. Charizma Ivy Agriabador, Legal Officer and representative of Schools Division Superintendent Mrs. Lani H. Cervantes, Dr. Allan O. Celedonio, Alternative Learning Systems Head, and Mrs. Ma. Lily N. Quaimco, District Supervisor; Nasunogan Elementary School Principal Mrs. Estrella E. Andrin; and Mercy Malaysia Vice President Datin Raja Riza Shazmin. Also present to witness the ceremony are local barangay officials, Mercy Malaysia officers and Maybank Philippines senior managers.
Addressing students, teachers, school administrators, and guests at the turnover, Shahril reiterated Maybank's living its mission of humanising financial services through the construction of the classrooms which provide long term benefits to the Nasunogan school children as well as the community.
He said: "In Nasunogan as in other parts of ASEAN, Maybank Foundation is committed to the development of the region economically and socially. We recognise that in order for the community to grow, residents should be able to feel safe and benefit from rehabilitation efforts, especially in such a volatile environment".
Numerous school buildings in Leyte were severely damaged by typhoons which passed through the province, particularly Typhoon Haiyan in 2013. Due to the lack of resources and ever-increasing enrolment, the Nasunogan Elementary School had to use makeshift classrooms to accommodate its students. The makeshift classrooms were made of bamboo, plywood and plastic tarps which are considered unsafe and not conducive to learning for children.
Maybank extended rehabilitation support to the elementary school in 2014 and completed in 2015. The two additional classrooms recently turned over are set to provide the improved capacity needed to safeguard more than 400 students who are living in the school's surrounding communities. These classrooms, equipped with furniture and fixtures, are built with sturdy materials, enabling them to function as a shelter in the event of natural disasters and withstand their impacts.
In testament of Maybank's continued focus in the Philippines, Maybank has also launched the new iteration of the critically acclaimed Reach Independence & Sustainable Entrepreneurship (R.I.S.E), a flagship economic empowerment initiative for the Persons with Disabilities (PWDs) and marginalised communities. The new iteration, aptly named R.I.S.E 2.0 was recently launched in Manila, and promises to positively impact 17,100 ASEAN citizens in 6 ASEAN countries with more than 4,000 of them in the Philippines over the next 5 years. Maybank has also extended its focus on championing financial literacy in the ASEAN region through the pilot of Cashville Kidz, a financial literacy programme targeted at school children aged 9 – 12 on the importance of money and financial management. 1,200 students from 8 elementary schools are expected to be positively impacted through this programme.
Maybank Foundation was established in 2010 and actively supports community programmes under six key pillars namely Arts & Culture, Education, Community Empowerment, Environmental Diversity, Healthy Living and Disaster Relief.