07 September 2017
Scaling Up of Cashville Kidz Financial Literacy Programme in Cambodia
Animated cartoon series to reach over 20,000 students in 4 years
On 30 July 2017, Maybank Foundation announced the successful completion of its pilot phase of the Maybank Cashville Kidz Financial Literacy Program in Cambodia, with a commitment to expand the programme under Phase 2 to national schools in the country.
The award winning Cashville Kidz program which was created and produced by MoneyTree Asia Pacific Pte Ltd , is endorsed by the National Bank of Cambodia and aims to address the need for Financial Education in schools and is in line with the Foundation's objective to champion financial literacy across ASEAN by educating school students via an animated series. The announcement of the second phase of this programme in Cambodia comes following the success of the pilot programme which was introduced in February 2017 and targeted at eight schools in Phnom Penh. It has now been accepted and approved by the Ministry of Education, Youth and Sport to be expanded throughout national schools in Cambodia. Some 3,000 students are expected to benefit under this new phase.
The Grand Finale and Cashville Kidz Challenge which saw representatives from the 8 participating schools battle their way through a vigorous quiz challenge, was graced by the Secretary of State, Ministry of Education, Youth and Sport in Cambodia, H.E Dr Im Koch; Director General, Central Banking, National Bank of Cambodia, H.E. Chea Serey and Director General, Banking Supervision, National Bank of Cambodia, Mr Rath Sovannorak.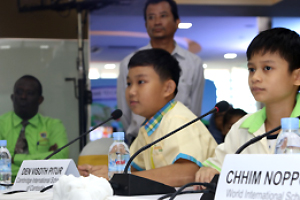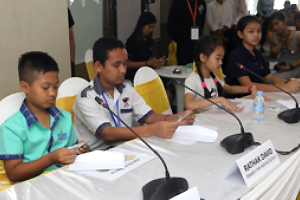 Participants from different schools battle their way through quiz challenges
Also present at the event were Group President & CEO of Maybank, Datuk Abdul Farid Alias, CEO of Maybank Foundation, Shahril Azuar Jimin together with Maybank Cambodia Chairman, Dato' Johan Ariffin, CEO of MoneyTree Asia Pacific Michael Reyes and members from the Board of Directors of Maybank Cambodia.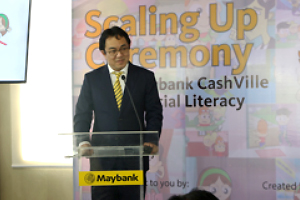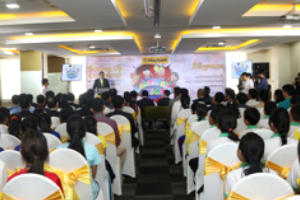 President & CEO of Maybank, Datuk Abdul Farid Alias and CEO of Maybank Foundation, Shahril Azuar Jimin at the event of Cashvile Kidz Financial Literacy Programme in Cambodia.
CashVille Kidz is an exciting animated cartoon series designed to teach school students the importance of money, in order to prepare them to meet future financial challenges they may face. The animated series focuses on specific financial lessons that range from the importance of saving money to developing positive spending habits and making smart investments.
The cartoon series features four main characters named Penny Wise, Barry Maverick, Sens Andola, and Suzy Spendamore. The series focuses on how each of the characters confronts individual challenges and in the process, develop their personalities and experiences. Targeted at children aged 9 – 12 years, CashVille Kidz aims to make the learning process a fun and educational one at the same time.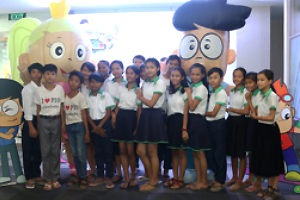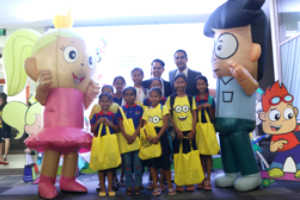 Photo session with the main characters from Cashville Kidz animated series
Speaking at the event, Datuk Farid said "We aim to prepare the young generations and one of our goals is to help develop their mindset and habits that would help them face financial challenges in the near future."
The CashVille Kidz program was initially launched in Malaysia in collaboration with MoneyTree and first aired in February 2013. It was recognised by the Malaysian Ministry of Education and accepted as an extra co-curricular activity that awards participating students with the compulsory co-curricular points every student requires. Over the course of the last three years, the program has reached more than 150,000 students from 700 schools across Malaysia.
CashVille Kidz is a flagship initiative of Maybank Foundation aimed at boosting financial literacy amongst school children, and can be easily replicated and upscaled in other countries where Maybank has a presence.
"Given the overwhelming response that we have received from students in the pilot programme, we are planning to expand it to various national schools in the country so that even more children can benefit from it and be equipped with the financial knowledge they would need to thrive in today's world," added Shahril.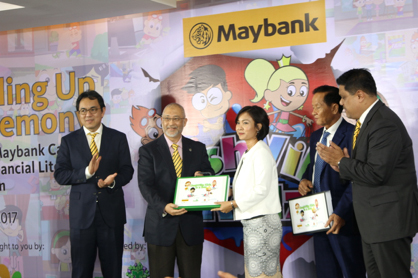 Maybank Foundation is the corporate responsibility arm of the Maybank Group, which seeks to positively impact communities in markets that Maybank operates. The Foundation's programs are focused on six key pillars which are Education, Community Empowerment, Healthy Living, Arts & Culture and Environmental Diversity.