08 August 2017
Launching of The Maybank Silk Weaving Training Centre, Cambodia
MAYBANK LAUNCHED THE FIRST SILK WEAVING TRAINING CENTRE IN CAMBODIA FOR UNDERPRIVILEGED WOMEN
On the 1st August 2017, Maybank Foundation officially launched its first-ever Silk Weaving Training Centre in Takeo, Cambodia. Construction of the building began in March 2016 and it is located about 65km away from Phnom Penh.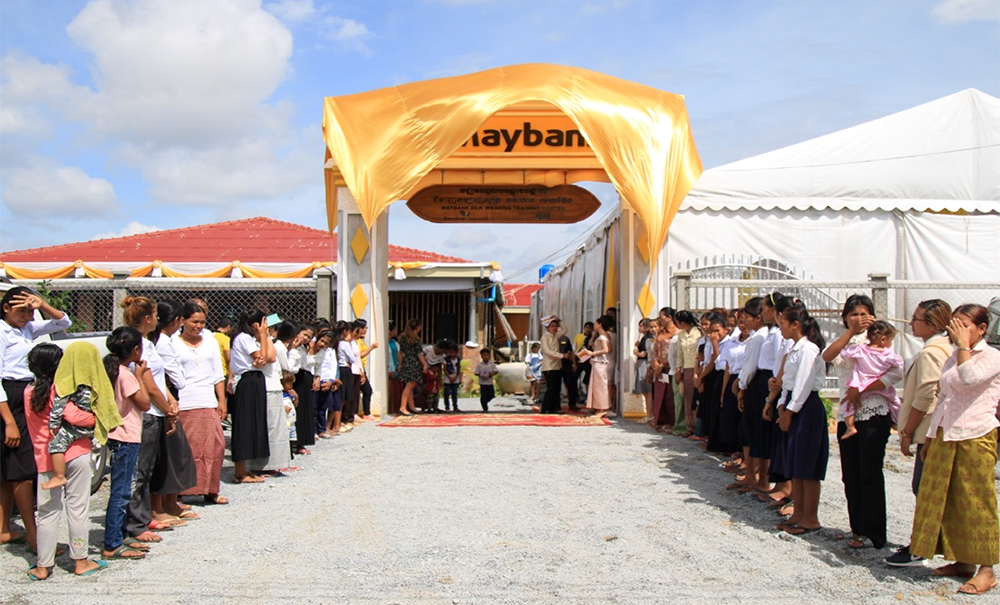 The Silk Weaving Training Centre in Takeo, Cambodia
The launch of the Maybank Silk Weaving Training Centre was officiated by the Secretary of State, Ministry of Women's Affairs Cambodia, H.E. Chan Sorey, together with the Chairman of Maybank and Maybank Foundation, Datuk Mohaiyani Shamsudin. Also present at the event were the Board of Directors of Maybank Cambodia PLC, CEO of Maybank Foundation, Shahril Azuar Jimin and other Cambodian and international dignitaries.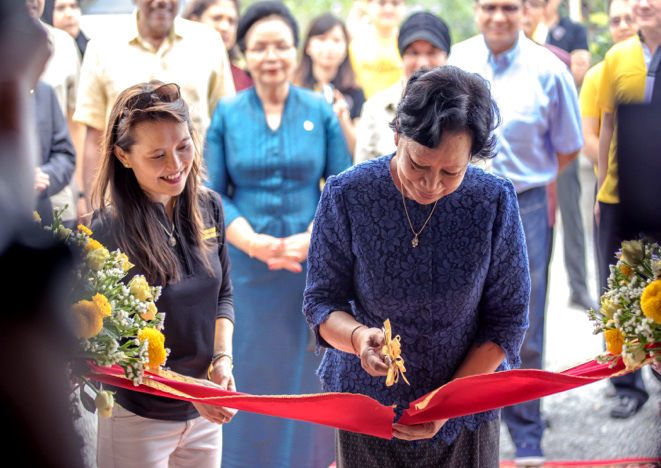 Secretary of State, Ministry of Women's Affairs Cambodia, H.E. Chan Sorey officiated The Silk Weaving Training Centre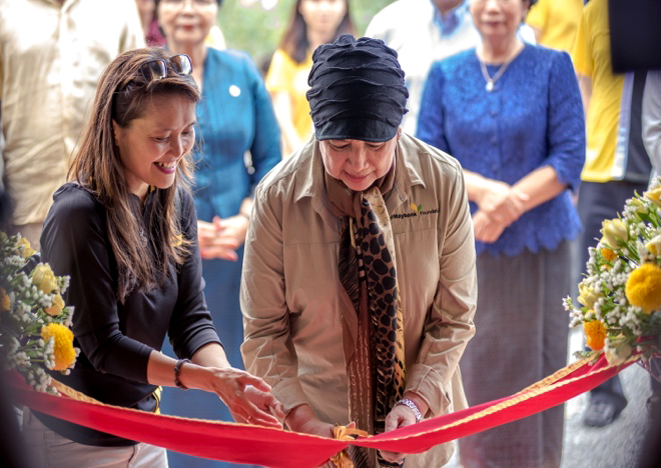 The Silk Weaving Training Centre was jointly officiated by Datuk Mohaiyani Shamsudin, the Chairman of Maybank & Maybank Foundation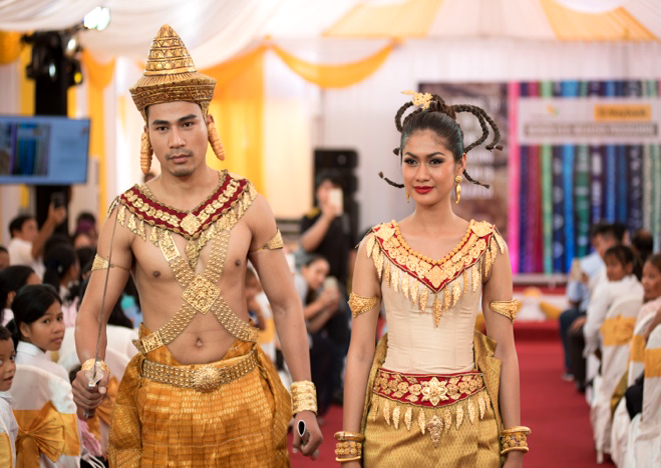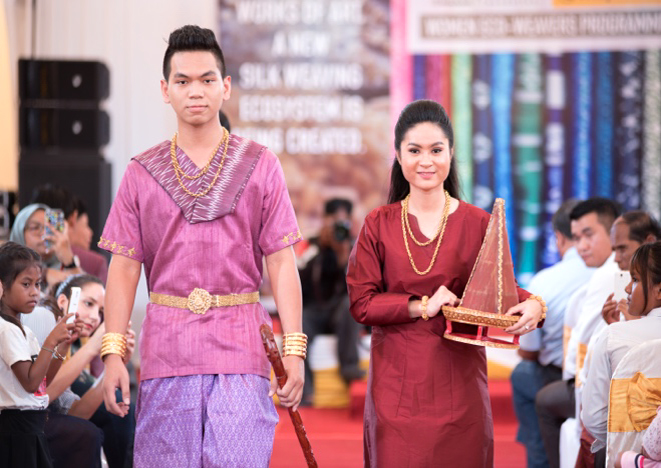 Models on runway with traditional and cotemporary Cambodian clothing made of silk during a fashion show on the launching day.
The Silk Weaving Training Centre, which is part of Maybank Foundation's "Maybank Women Eco-Weavers" (MWEW) programme, aims to promote traditional textiles globally in a sustainable manner, and at the same time create business opportunities for underprivileged women that will enable them to achieve economic independence. It is designed to provide opportunities to empower women weavers who live in extreme poverty. Through training, capacity building and production related financial incentives, these women are provided with the tools to help them and their families become economically independent and financially inclusive.
The Maybank Women Eco-Weavers program also helps to sustain local heritage and culture as well as help build the capacity of new weavers. The key focus is to preserve, sustain and promote traditional textile making techniques with modern fashion in order to connect and identify collective value, in an environmentally friendly manner.
Maybank Foundation's MWEW programme was initiated at the end of 2015, and it is currently being implemented in three countries, namely Cambodia, Indonesia and Laos. To date, 50 women weavers have already been trained in Cambodia, with another 25 currently undergoing training.
In Cambodia, Maybank Foundation partnered with an NGO called Color Silk in to establish the "Maybank Silk Weaving Training Centre" in Takeo Province, which is one of the areas known for silk weaving in Cambodia. As part of the program, Color Silk will identify and nurture more than 200 farming families over a 3-year period to plant mulberry trees which are essential for the industry.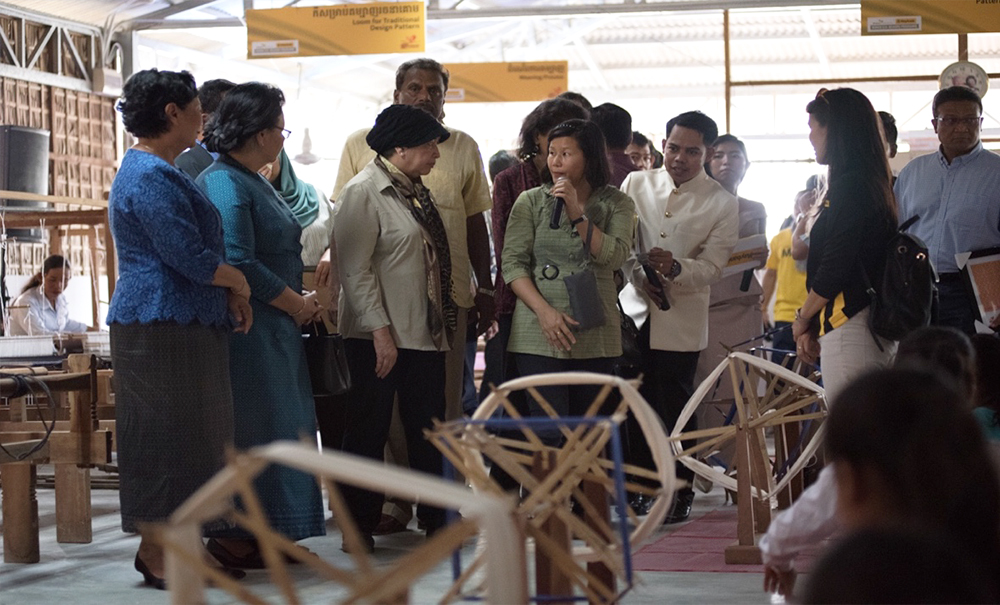 The founder of Colour Silk, Vanntha Ngorn giving a brief explanation about the weaving process
Heoun Lida, an 18 year-old girl, who had to quit her school at a young age due to a serious health problem, joined the program as a way to improve herself. Since joining the programme, Heoun Lida has become a confident, successful microentrepreneur. Through weaving, Heoun Lida can earn up USD 120 to USD 180 per month by making products such as silk fabrics and scarves.
After growing up in a difficult family environment, Leang Somaly, who is a 22 year old girl, decided to enrol in the Maybank Women Eco-Weavers Programme as a way to help her family. After 5 months of training, Leang Somaly, has become a microentrepreneur by becoming a full-time weaver. After graduating from the programme, Leang Somaly now earns up to USD 130 – USD 180 per month. The skills she has gained from the programme has enabled her to earn a decent living and support her family.
The program is supported by the ASEAN Foundation as it is an evolving common mission to preserve the ASEAN cultural heritage and contribute towards building the ASEAN identity.