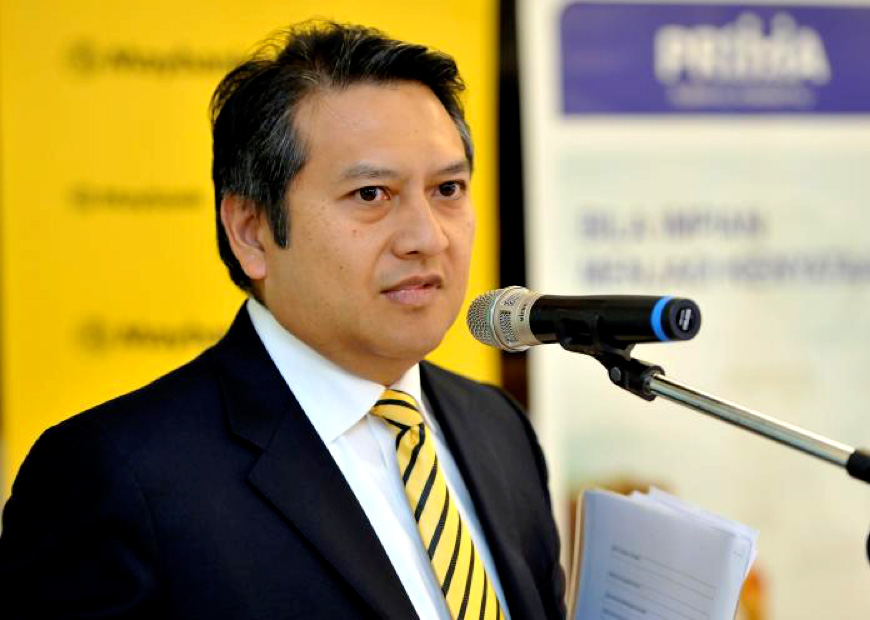 10 November 2016
MaybankHeart Aims For RM1m Donations
MaybankHeart actually gives a platform to leverage on Maybank's digital capabilities and social media to reach out to the masses, says Amirul Feisal (Pic by Muhd Amin Naharul/TMR)
Malayan Banking Bhd's (Maybank) newly launched crowdfunding platform, MaybankHeart, aims to raise RM1 million for non-governmental organisations (NGOs) and charitable bodies in Malaysia within 12 months.
Maybank Group CFO Datuk Amirul Feisal Wan Zahir said MaybankHeart is a new social fundraising initiative which utilises Maybank's digital platform.
"MaybankHeart actually gives a platform (for NGOs and like-minded organisations) to leverage on Maybank's digital capabilities and social media to reach out to the masses," Amirul Feisal said at the launching ceremony in Kuala Lumpur yesterday.
"It allows these organisations to tell their stories, what they are doing and reach out to everyone at the same time, while providing the access for any individual or body who wants to contribute."
The platform piloted on Sept 7, 2016 has successfully closed 12 fundraising campaigns and collected over RM400,000 to date.
MaybankHeart is also currently working with 20 NGOs and could add a further 15 pending the relevant agreements and approvals.
Amirul Feisal said the platform is the first-of-its-kind in Malaysia and ensures potential donors a guarantee that all their contributions go to the charity, besides any transfer fees.
It also specifies what service or initiative the contribution is funding with a vetting process to determine the validity of any given NGO or charitable body.
The vetting process requires a prospective NGO to be registered, open a Maybank account, provide the relevant documents to attest to their status and submit its campaign or initiative for a further screening.
Each campaign will be opened for a limited period and the NGO or charitable organisation has the option to close the fund once sufficient funds have been raised.
MaybankHeart aims to humanise financial services through this initiative managed by the bank's corporate responsibility arm, Maybank Foundation.
Maybank Foundation CEO Shahril Azuar Jimin said the platform will focus on six areas — quality education, disaster relief, community empowerment, arts and culture, environmental diversity and healthy living.
Meanwhile, Maybank chairman Tan Sri Megat Zaharuddin Megat Mohd Nor said MaybankHeart provides the bank an opportunity to serve communities beyond financial gains to cover social and environmental needs as well.
"With combined and strengthened efforts from all, we are confident that this initiative will gain more traction, contributing to an inclusive, sustainable and resilient future for our people and our environment," Megat Zaharuddin said.
MaybankHeart is looking to expand into South-East Asia.
Ongoing active campaigns under MaybankHeart are Yayasan Sarana Pendidikan Malaysia and Free Tree.