18 July 2017
Merdeka Art Workshop: Stripes of Freedom
Maybank Foundation celebrates 60th National Independence Day with the first ever Merdeka Art Workshop and Solo Art Exhibition
As the national independence day draws closer, Maybank Foundation commemorates our nation's 60th independence anniversary by embracing the arts and culture of our Malaysian heritage. On 15th July 2017, Maybank Foundation hosted its first ever Merdeka Art Workshop with the theme, 'Stripes of Freedom', which was held at the Menara Terrace, Menara Maybank. The two-part workshop session was attended by Maybank's staff, who share the same passion to become aspiring artists, as they will learn to improve their artistic ability with the help of some of the best local artists in Malaysia.
The workshop was officiated by the CEO of Maybank Foundation, Shahril Azuar Jimin, together with the Head of Corporate Responsibility and Maybank Foundation Secretariat, Ahmad Faezal Bin Mohamed and the curator of the exhibition, Tan Sei Hon. Tan Sei Hon, who is also one of the artists at the workshop, kicked-off the event by sharing the techniques and approaches in abstract art.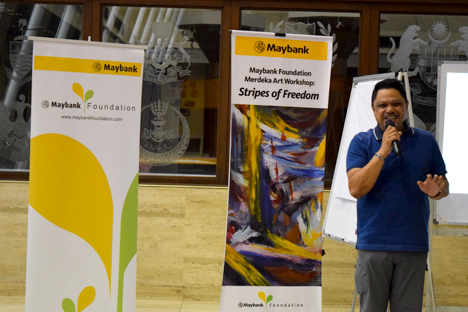 The CEO of Maybank Foundation, Shahril Azuar Jimin initiates the commencement of the workshop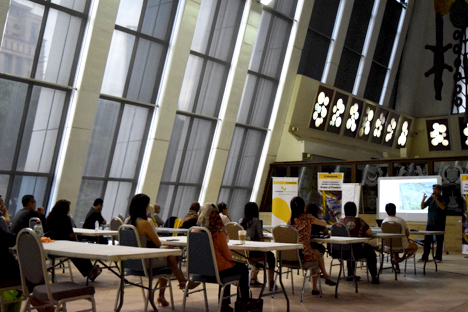 The curator of the exhibition, Tan Sei Hon sharing his knowledge on abstract art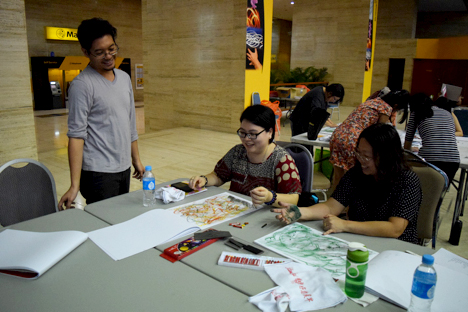 Artist Badruddin Syah Abdul Wahab sharing a light moment with the participants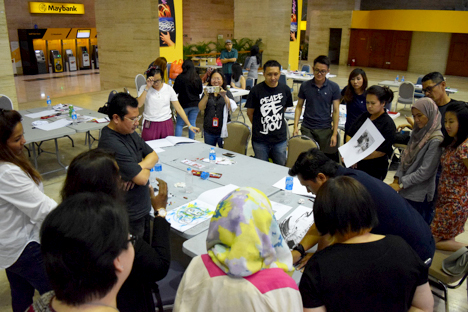 Participants of the workshop admiring the drawing techniques displayed by fellow artist, Syahrul Niza Ahmad Zaini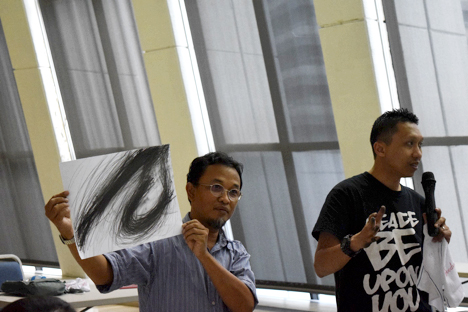 Artist Norlisham bin Selamat (left) displaying an artwork done by fellow participator, Musyawawee bin Mohamad (right) during a sharing session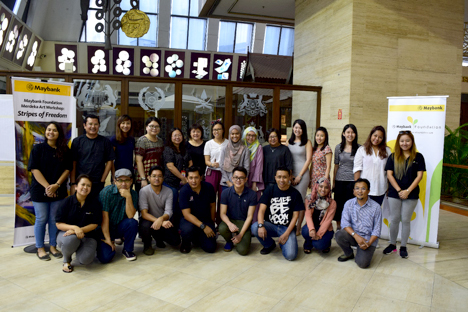 Artists and fellow art enthusiasts gathered together to share and experience the wonderful world of abstract art
The participants then straight away began their lesson and were taught the basics of abstract art with the help of fellow local collaborating artists such as Badruddin Syah Abdul Wahab together with Marisa R Ng, Syahrul Niza Ahmad Zaini and Norlisham bin Selamat.
The two-part abstract art workshop allows the participants to hone their skill and they will have the opportunity to showcase their paintings at the first ever solo art exhibition, together with the artworks made by the artists. The solo art exhibition, led by Badruddin Syah Abdul Wahab, will take place at our very own Balai Seni from 16th August until 16th September 2017. This exhibition is aimed to celebrate the success of our forefathers in securing "Merdeka", as well as to instill and strengthen a sense of love for this country.
Maybank Foundation will commence its second and final Merdeka Art Workshop session on the 22nd of July 2017.