10 July 2017
Tiger Social Bazaar – RISE
Maybank Philippines, Inc. holds Tiger Socials Bazaar featuring participants from Maybank Foundation's R.I.S.E program
Maybank Philippines, Inc. (MPI) conducted its 2nd Tiger Socials Bazaar last July 6, 2017 at the Maybank Synergy Center. The event featured products sold by participants of the Reach Independence and Sustainable Entrepreneurship (R.I.S.E.) program in The Philippines. The R.I.S.E program is one of the Flagship Programs of Maybank Foundation, which is already running in 3 countries, namely Malaysia, Indonesia, and the Philippines. To date, more than 2,000 differently-abled and marginalized people have been trained, and it has proven to be successful in building innovative sales strategies into their business ideas, enhancing business management skills, and augmenting client acquisition and retention. This paves way to a faster and sustainable income increase, without requiring any loan or additional funding.
The bazaar is a project of E3 (Energize, Empower, Engage), a year-long employee engagement platform of MPI that fosters camaraderie, interaction, competition, and motivation within the community. Nine R.I.S.E. participants from three PWD federations in Metro Manila showcased and sold their products to MPI employees and external guests. Participants who were present were Felipe Edwin Ignacio, Jaime Roque and Lalaine Guanzon of the Makati PWD Federation; Marcelo Jaymalin, Maria Fe Maravillas, Mariano Timbang Jr and Mary Jane Canega of the Las Piñas PWD Federation; and Daphne Pacheco and Merjane De Guzman of the San Juan PWD Federation. Various products, both food and non-food items, were featured and well-received by the guests. Through the bazaar, the participants were able to make a total sale of PhP 53,000.00, excluding the orders taken within the same day.
The one-day activity commenced with a short program that was attended by the Management Committee members and employees of MPI. Mr. Nandha Kumar Subramaniam, the Chief Risk Officer of MPI, welcomed the participants and guests with a short message of appreciation. Other Management Committee members that were present were Atty. Arlene Joan T. Agustin, Mr. Bernardo G. Talimban, Jr., Mr. Manuel G. Bosano III, Ms. Fides Tanay, and Mr. Julian Sim.
The participants were very happy to share that most of their products were already sold out in the first few hours of the bazaar. According to Ms. Daphne Pacheco of the San Juan PWD Federation, "Masayang-masaya ako dahil worth it ang pagod at puyat. Kumita ako ng PHP 5,850 sa isang oras lang. Kung wala ito, tatlong araw ko pa ito tatrabahuhin. (I am very happy! My efforts and hardwork were paid off. I've earned PHP 5,850 within an hour. If not for this (event), I would have had to earn that (amount) in three days.)". Meanwhile, Mr. Marcelo Jaymalin of the Las Piñas PWD Federation expressed his appreciation by thanking MPI, "Maganda ang tanggap ng mga Maybankers sa amin. Napaka-warm ng pagtanggap nila sa amin. (We were well received by the Maybankers. They were very warm towards us.)".
To hype up the activity, MPI launched the #MaybankRISEAbove webisodes in Facebook and Linkedin last June 28, 2017. This 5-episode series of two-minute inspirational videos feature the R.I.S.E. participants and how the R.I.S.E. program made an impact in their lives. The webisodes were made and produced by the team leaders of E3. The pilot episode was launched last June 28, 2017, entitled "LENTE" (Camera Lens), has reached 14,000 views, 712 likes, 324 shares. The second webisode entitle "SIKAP" (Hardwork), which was launched last July 5, 2017 has reached 4,900 views, 613 likes and 137 shares. There will be three (3) more webisodes to be aired every Wednesday within the next few weeks. "E3 Webisode Project" is part of CINEMAYBANK, a film festival competition that highlights how Maybank touched the lives of its employees, customers and community as it celebrates its 20th year in the Philippines.
The R.I.S.E program in Philippines was launched with the training in Manila in January 2017, followed by the training in Cebu in March 2017. The pilot program was deemed completed by the end of March with a total of 255 participants trained.
Out of the 255 participants, 206 or 80% are PWDs with the remaining from the marginalized communities. Through this program, an average income increase of 565.0% (PHP9,418.61 (USD 186.26); income increase from PHP 1,666.86 (USD 32.97) to PHP 11,085.47 (USD 219.26)) have been achieved by the top 40% of the total trained participants. The bazaar is part of the continuous efforts of Maybank, through the R.I.S.E. program, to increase the income and empower the PWDs in the Philippines.
With the overwhelming success for the programme in the 3 countries, the Foundation will be scaling up the programme and reach out to more participants in ASEAN countries. Our commitment to supporting and empowering the disadvantaged especially PWDs, is in line with Maybank's mission of humanising financial services.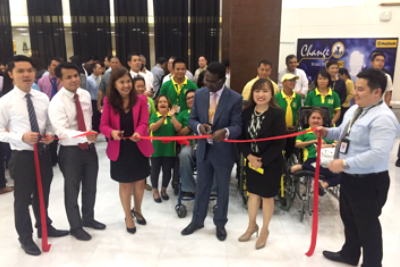 Ribbon Cutting by Management Committee to signify the official opening of TIGER Socials Bazaar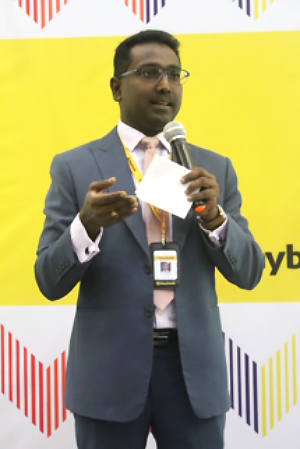 Chief Risk Officer Nandha Kumar Subramaniam delivering his opening remarks for the event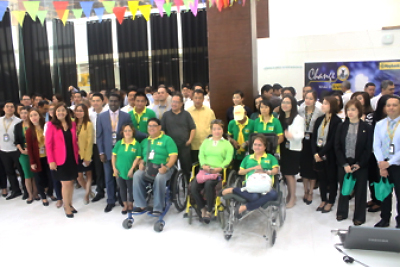 Photo opportunity with Management Committee and RISE Participants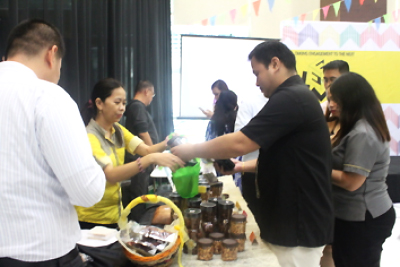 A Maybanker patronizing the product (peanuts) of one of the RISE participants
About Maybank Foundation
Maybank Foundation, is the main implementer of the Group's community programs and its mandate is to create positive, sustainable and long-term impact in communities where Maybank operates. The Foundation focuses on 6 key pillars, namely Education, Community Empowerment, Healthy Living, Environmental Diversity, Arts & Culture, and Disaster Relief. Since its establishment, the Foundation has focused on identifying programs that can have the most tangible impact and sustainable results.