Sole Leg Doesn't Matter, But Sole Income Had Me Suffered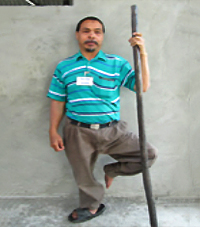 Full Name: Kulubin Bin Intang
Country: Malaysia
Location: Sabah
Batch No.: Phase 2, Batch 30
Date Trained: 29-31 July 2016
Disability: Leg disability due to polio
Business: Sells Vegetables
Average Monthly Income Before: RM 300
Average Monthly Income After: RM 850
Kulubin was born normal but became permanently disabled due to adversities faced by his family. He was down with a high fever that demanded urgent treatment when he was 2 years old. However, his parents could not afford to visit the clinic. Overwhelmed by the situation, Kulubin's parents had no choice but to seek treatment from a shaman. It ended tragically instead. Kulubin was infected by polio - a highly contagious disease caused by a virus that attacks the nervous system - which resulted in the abnormality of his leg. Since that time, he needed a long wooden crutch to move around.
Kulubin married a woman who accepted him wholeheartedly in spite of his condition. They were blessed with 3 children, currently studying in primary and secondary school nearby. Both Kulubin and his wife struggled to even provide the basic needs for their growing family. As small time farmers, Kulubin and his wife sell home-grown vegetables or vegetables bought from the wholesalers, but the income earned was not enough to make ends meet. In fact, they depended on the vegetables that they did not manage to sell as one of their sources of food. As for the children's pocket money, Kulubin could only afford to give a very minimal amount to their child.
In order to get more income, Kulubin cooked fried rice and noodles from their small, barely equipped kitchen, for his children to sell them at school. Despite the extra income, Kulubin still could not afford to buy a car and was only relying on public transportation to go to town to conduct his business. On top of that, he only bought clothes priced between RM3 – RM5 from thrift shops for his wife and children. Deep down inside, Kulubin always felt inadequate and blamed himself for not being able to provide well for his family and wished he wasn't disabled as he felt it caused a tougher life for his family.
The Maybank RISE breathed a new life into Kulubin. With the endless support that he received from Maybankers, trainers and mentors, he became more motivated and started believing that he could change the life of his family for the better. He made use of the knowledge, ideas and business strategies gained from the R.I.S.E. programme to expand his small business selling vegetables. From only selling vegetables, Kulubin started to sell Tuhau - a traditional side dish of the Dusun ethnicity – as well as home-bred catfishes. He actively promotes his products to customers via texts and calls instead of waiting for them to come to him. Kulubin also expanded his network in order to reach and attract even more customers by asking his friends to forward his business texts around. The number of customers increased day-by-day, in response to Kulubin's home made Tuhau. Kulubin witnessed the tremendous increment in his income.
Today, Kulubin no longer needs help from his children to sell food at school. He came to a realization that their education is crucial to ensure a brighter future and he began emphasizing it's importance to his children. He wishes to see all of them succeed in their life despite the hardships that they have faced as a family. Therefore, he decided to enroll his children into a boarding school where they would be able to focus on their education and learn more about religion and have better access to education in a conducive environment. Kulubin was filled with pride after he managed to purchase new school items and stationaries for his children as he could not afford such luxuries before. In fact, back then, his children would use the school items and stationaries until they wore out.
Tempted to change the status of their life, Kulubin opened Amanah Saham Bumiputera (ASB) accounts for his wife and himself. As for his children, Kulubin opened ASB accounts to save for their education, to provide for their future tertiary education. Besides starting to save for the family, Kulubin expanded their kitchen area for the comfort and convenience of his wife. He also plans to buy a car and send his wife for driving classes in order to increase the mobility of the family. In that way, they are able to go to town to shop for raw materials by car instead of taking public transportation or walking long distances. With the expansion of his business and growing capital saved, he now has higher purchasing power and was able to buy more vegetables from the wholesalers at discounted rates to resell them for better margins. Kulubin's wife is happy and proud with his hardwork and determination, as well as his attempts to improve the financial status of the family.
With all the improvement that has been happening in his life, one thing that emotionally moved Kubulin the most was the fact that he could finally share his earnings with other people in the community where he lives who were less fortunate than him. He regularly gives to those in need in the community and even donates money for funerals to able-bodied people in the community, giving RM 20 whenever there is a death or funeral expenses to cover.
He is filled with dignity that he has overcome difficulty and challenges to become a provider for his family and to his best ability for the community as well. Kulubin can finally feel the bliss of escaping the financial difficulties he used to struggle with and continues working hard in business to achieve financial freedom along for his beloved family. He is extremely grateful to Maybank for empowering him with the R.I.S.E programme which he attributes as being a contributor to his success, besides his own hard work.