I Rose With RISE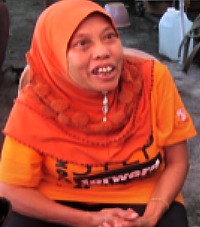 Full Name: Hajijah binti Bakar
Country: Malaysia
Location: Sarawak
Batch No.: Phase 2, Batch 40
Date Trained: 15-17 October 2016
Disability: Hunch back since birth
Business: Sells Ice pop and Snack
Average Monthly Income Before: RM 0
Average Monthly Income After: RM 500
Some people are born healthy and strong, but Hajijah was born with a condition that affected her life tremendously. She suffered from slow bone growth which gradually caused her spine to curve and she suffered from a curved spine. This did not hold her back from finding her true love. She married the love of her life and they adopted a child together in attempt to build the perfect family that they desired.
As things we starting to look up, God decided to place another test in her life. Her husband suddenly fell ill and it affected his mental health. Being unable to continue working, Hajijah had to take over his role as the sole breadwinner in the family. Her entire family relied on the income she got from part time babysitting and the minimal amount of allowance provided by the welfare department. It was in these tough times when Hajijah was working hard to provide for the family, that her adopted daughter decided to run off with her boyfriend and then went back to her biological parents, leaving Hajijah and her husband in deeper despair. Seeing their daughter whom they brought up with much love and care abandon them, left a hole in their hearts.
Aside from being abandoned by their beloved daughter, Hajijah also faced discrimination from her own flesh and blood. She was condemned simply because she lived a poor life due to the difficulties she faced. Hajijah was pointed out as being a burden to others. All these stressful events in her life eventually caused her to be consumed with depression. Her depression reached a critical point where Hajijah wanted to end it all by taking her own life, to stop all the suffering in her life. She tried to pick herself up again by trying to add a ray of happiness to her empty life, she adopted another child, this time, a son. They were once again complete, as a family but alas, tradegy struck again. A few years after adopting their son, Hajijah's husband met with a terrible accident. Not expecting such a terrible incident to to occur, left Hajijah in a constant state of fear for her husbands life and hopelessness over her future.
It was at this time, the lowest point in her life, that Hajijah was invited to join the Maybank R.I.S.E Programme. During the three day training sessions, she was enlightened to a whole new world of endless possibilities. With all the knowledge gained, Hajijah was motivated and determined to take a leap of faith by starting a small business. After the third day of training, she went back home, took out an old canopy and table that she had stored away and set it up in front of her house. By using just these two items, she managed to set up a snack and drinks station. From running this small stall, Hajijah was earning as much as 20 cents to RM5 daily. Even though it might not be a huge amount in the eyes of others, it still made a difference to Hajijah. There were still days where she earned nothing and to make it worse, the local children would take advantage of her mentally ill husband (who had to sometimes help her by manning the stall when she was not around), by stealing some of the snacks, as they knew that he was unable to stop them. This did not break Hajijah's spirit, it instead made her more determined to keep on fighting to change the fate of her family. The thought of her husband and son was her push factor to never give up.
As time passed, her business started to become more fruitful. Her income gradually increased, so much so, that she could afford to sell home-cooked meals for her customers. She diversified her menu and added more items such as fried snacks and noodles as well. With the profit gained, she used it to reinvest in her business by buying new chairs and tables for her customers to feel more comfortable and welcome. Besides being able to upgrade her business, she could now afford to provide the life that she has always wanted her family to have. She was proud and overjoyed that she could finally replace the second hand school uniform that her son was wearing with new ones now. As her life started turning around for the better, she gradually overcame her depression. Hajijah focused most of her energy into keeping herself busy with her business so she could build an even better life for her family.
Hajijah's hard work and effort did not go unnoticed. Now that Hajijah was an independent business owner who was able to provide well for her own family, the villagers in her area started showing her more respect and admiration. This not only created a sense of dignity and pride in her but also made her feel that she was as capable as any other person, maybe even better. She started believing more and more in herself. As a result of that, she finally mustered enough courage to step up further by getting her own driving license so that she didn't need to rely on others. Aside from upgrading her standard of living, Hajijah also realised the importance of savings and created an education fund for her son, a thought that had never crossed her mind before the R.I.S.E programme.
Hajijah could never forget all the hardships that she and family went through. It was a rough journey filled with despair, disappointment, hardship and finally some joy. All these are now life lessons to Hajijah, something that she is equipping and educating her son with now to prepare him to face his own future. She mentioned that her son has managed to mature beyond his age and is now learning how to be independent and responsible. Hajijah is working on expanding her business by partnering with a friend who also happens to be disabled. Hajijah has managed to turn her life around and hopes to do so for others. She feels the Maybank R.I.S.E. programme came into her life at a critical point, without it she doesn't know where she would be today.